[one_half padding="0 0 0 20px"]


25 HolidayCheck
Awards
[/one_half]
[one_half padding="0 0 0 20px"]


80% of hotels improve position
[/one_half]
[one_half padding="0 20px 0 20px"]



7000+ published
reviews
[/one_half]
[one_half padding="0 20px 0 20px"]



2X number of published reviews

[/one_half]
[full_width padding="0 20px 0 20px"]
Are you selling your holiday hotel rooms on the biggest outbound tourism market in the world – Germany?
Here's how more than 200 holiday resorts improve their visibility with the main German tour operators by publishing more reviews on HolidayCheck.de (i.e. ThomasCook.de, TUI.de, ITS.de, Neckermann.de, Der Touristik and many others).
Related articles:
More than 200 3-, 4- and 5-star holiday resorts in Greece, Spain, Turkey, Malta, Portugal, Bulgaria, Croatia and Italy made use of a new co-branded service between HolidayCheck and Reputize which helps hotels publish more guest reviews directly from a touch screen tablet (placed in the hotel) to HolidayCheck.de.
On average hotels using the service doubled the number of published reviews and 80% of them improve their position with HolidayCheck and the German tour operators.
"As a global tech partner of HolidayCheck our whole Reputize team is committed to promote better visibility for all hotels on the largest German-speaking review portal. The amazing result we achieved for our our customers – twice as many reviews and 25 rewarded hotels for 2017, is a great example that more reviews result in better visibility and reputation on HolidayCheck."
Ivo Dimitrov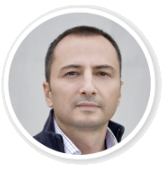 CEO, Reputize
How more reviews actually result in better ranking?
Part of the HolidayCheck ranking algorithm is the number of reviews and how fresh the reviews are. By increasing the number of reviews published on HolidayCheck you automatically increase rankings. Click here to learn more why more reviews equal better visibility on HolidayCheck.
Why the guest reviews on HolidayCheck are the most important reputation source for the German holiday market? 
HolidayCheck is the most used travel and review portal by Germans planning their holidays. Furthermore, HolidayCheck reviews are used by almost all German OTA's and tour operators (being the world's biggest) including  TUI, Thomas Cook, Der Touristik, ITS, Neckermann, and many others. For example a German travel planner looking for his/hers Italian holiday on the website of tui.de will actually see HolidayCheck reviews. Here are visual examples: example 1, example 2.
Examples, customer cases and testimonials:
1. Amazing results in Greece – hotels double the number of reviews and climb ranking:
2. Reputize customers in Bulgaria received 13 out of 15 HolidayCheck awards:
3. Here is how a small 3-star family hotel in Italy scored Number 2 in HolidayCheck for its resort: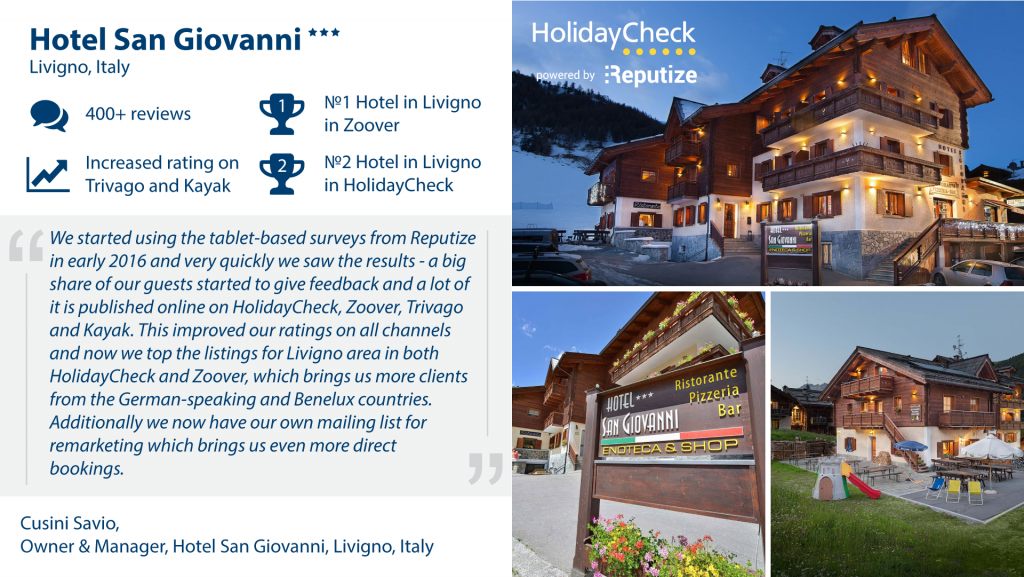 Download the customer cases and details in PDF – click here and here.
Click here for even more customer cases.
Why not sign up for a free trial?