Our team is proud to be selected by the Pancretan Hotel Managers Association to present Reputize before the Cretan Hoteliers. Our partner in Greece Mr Papanikos had the chance to explain the benefits of engaging guests and to show the results achieved with a few of our customers in Crete.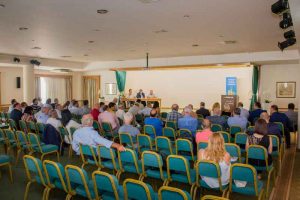 Pancretan Hotel Managers Association held its monthly plenary session on 23, the August 2019 in Hotel Iberostar Creta Panorama in Rethymno.
About the Pancretan Hotel Managers Association
The Pancreatic Hotel Managers Association is based in Heraklion, Crete and was founded in 1983 by 23 founding members.
The goals of the Association are:
– Safeguarding and promoting the institutional, financial, ethical, insurance, social and training interests and pursuits of Hotel Managers.
– Developing a spirit of unity and solidarity among its members, as well as working with other unions to defend their common goals.
– The development of collective activity for the improvement of the Tourist standard of the country.
About Reputize:
Reputize helps hotels manage guest relations and online reputation from one easy-to-use platform to improve operations, build loyalty and boost reviews. Reputize's investors are German retail giant METRO GROUP and US venture capital Techstars.
To learn more, please visit www.Reputize.com or contact us.