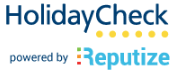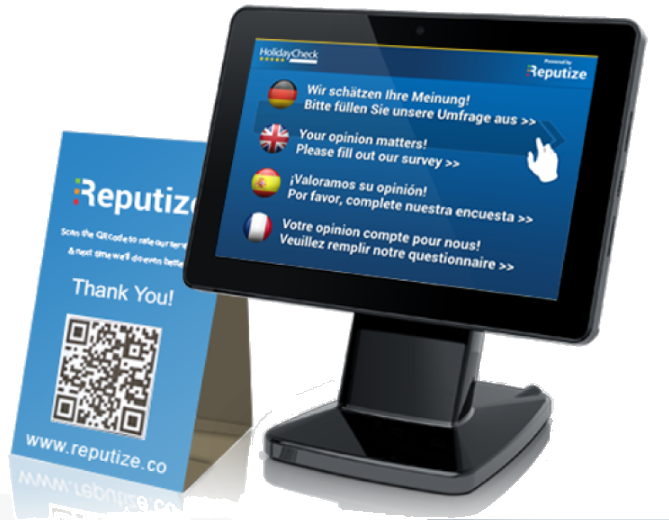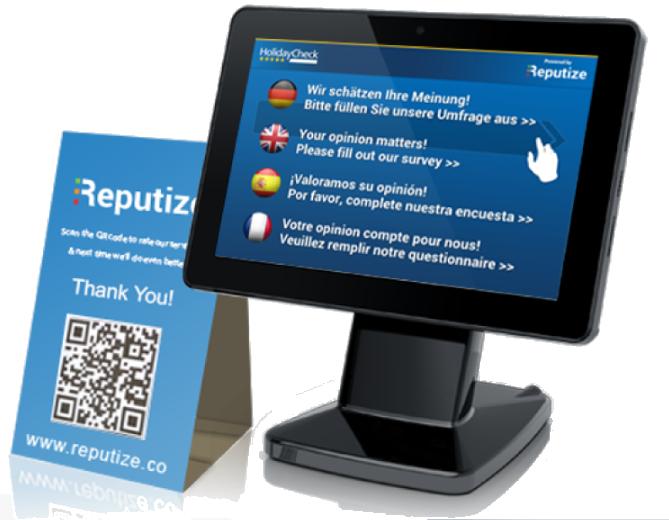 In 2015 Reputize in partnership with HolidayCheck started a co-branded service which allows hotels to collect guest reviews on tablets placed on-site at the property. The reviews are published on HolidayCheck.
Because the number and the freshness of the guest reviews is a key component in the ranking algorithm – the service is producing positive results in all OTAs currently using HolidayCheck's reviews like TUI, Thomas Cook, ITS, Neckermann, Trivago, Kayak, and many others.
"As a global tech partner of HolidayCheck our whole Reputize team is committed to promote better visibility for all hotels on the largest German-speaking review portal. The amazing result we achieved for our customers – twice as many reviews and 25 rewarded hotels for 2017, is a great example that more reviews result in better visibility and reputation on HolidayCheck."
Ivo Dimitrov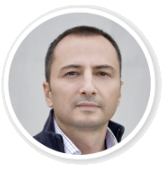 CEO, Reputize
Similar to the biggest review portals Tripadvisor and Google, HolidayCheck also factors the review count and score into it's ranking algorithm. In other words:
– More reviews are better than less reviews.
– Positive reviews are better than negative reviews.
– Newer reviews are better than older reviews.

For example to qualify for a HolidayCheck Award nomination your hotel needs at least 50 guest reviews in the last 12 months.
Click here to read how more than 200 3-, 4- and 5-star holiday resorts in Greece, Spain, Turkey, Malta, Portugal, Bulgaria, Croatia and Italy improved their visibility on HolidayCheck and the main German tour operators.
Here is a summary: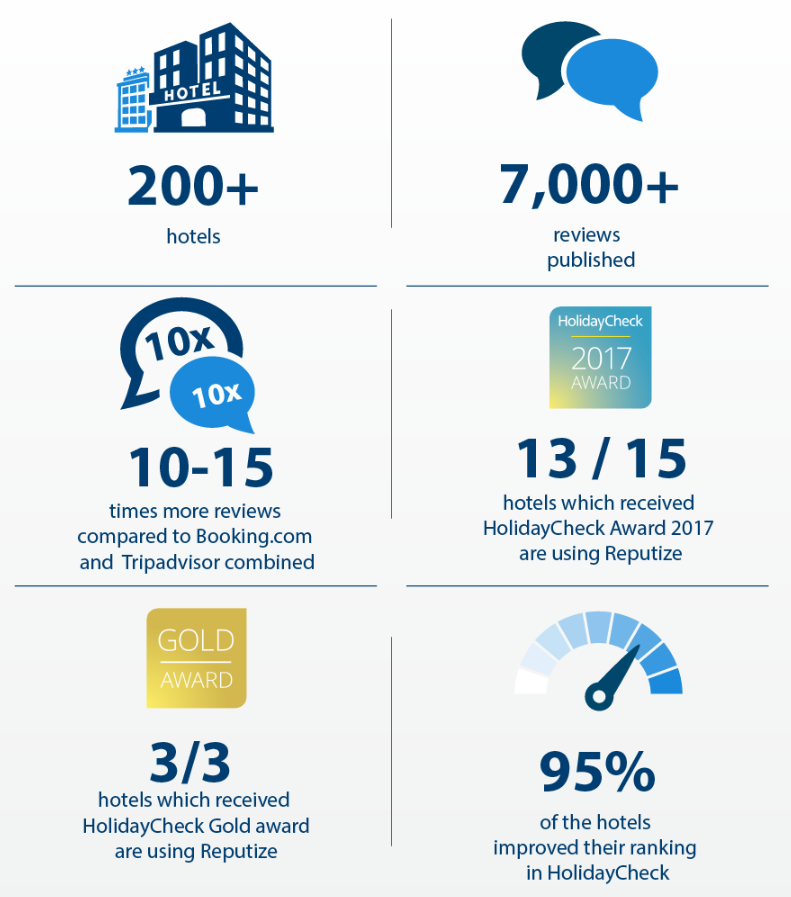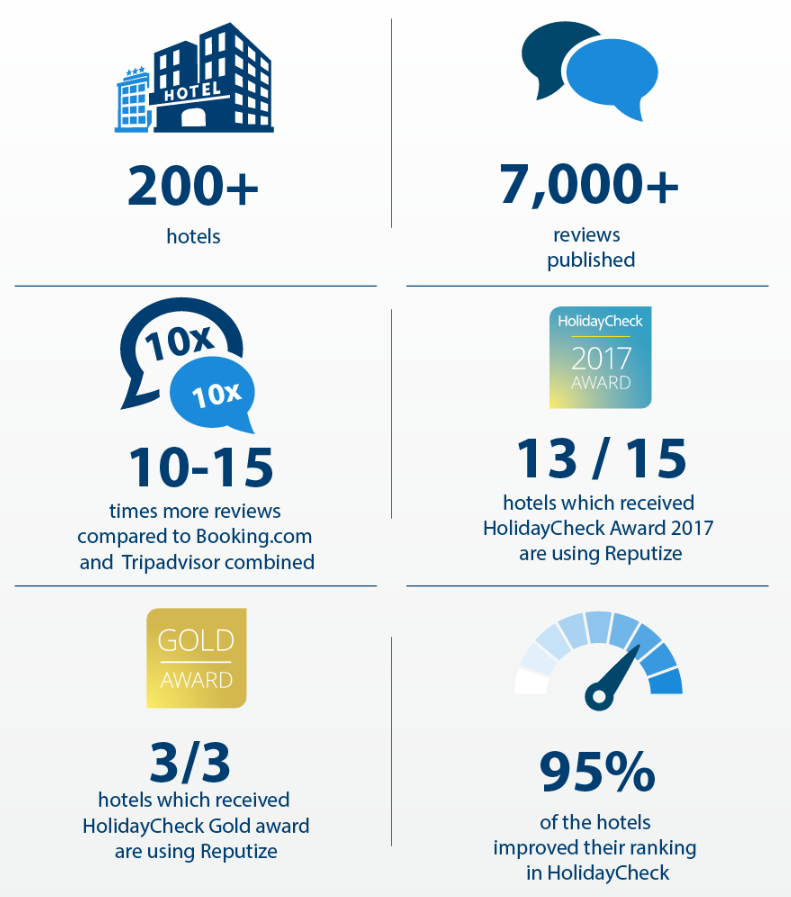 Strategies to engage guests and get more reviews on HolidayCheck:
1.) Ask your guests to write a review on HolidayCheck when they return home.
Give a small gift during checkout or send a thank you email with a kind request for reviewing your hotel. In turn, worth mentioning, HolidayCheck motivates the users for writing a review with a €100 or €50 discount voucher on a next purchase. Additionally review writers can requests loyalty awards including 200 miles from AirBerlin's TobBonus, 150 miles from Lufthansa's Miles & More and 100 miles from Eurowings Boomerang Club (as of March 2017).
Email sending can be automated with an automatic integration between the reputation platform and your PMS.
2.) Make it easy for guests to write a review during their stay.
Two options exist – the so-called "HolidayCheck Day" and touch-screen terminals.
You can arrange a special event – usually called "HolidayCheck Day" at your hotel where you can use iPads and PCs to invite guests to write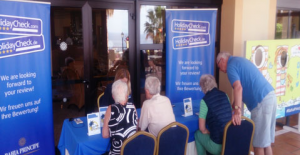 a review. This event requires a special arrangement – you need to announce the event in advance and possibly thank your guests with a little gift (cocktail, fruit basket, raffle, room upgrade, etc). A "HolidayCheck Day" is only available under a special arrangement with HolidayCheck.
To collect reviews at all times while the guests are still at your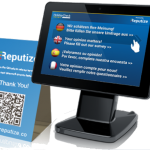 property you can place Reputize-certified touch-screen terminals.
Review writing happens on the touch-screen terminals (tablet kiosks) that are locked for the review application and which can be left unattended in various places around the hotel. As a reference, on average, Reputize customers using this option are able to generate twice as many reviews.
Click here for customer cases.
Want to try it in your hotel?